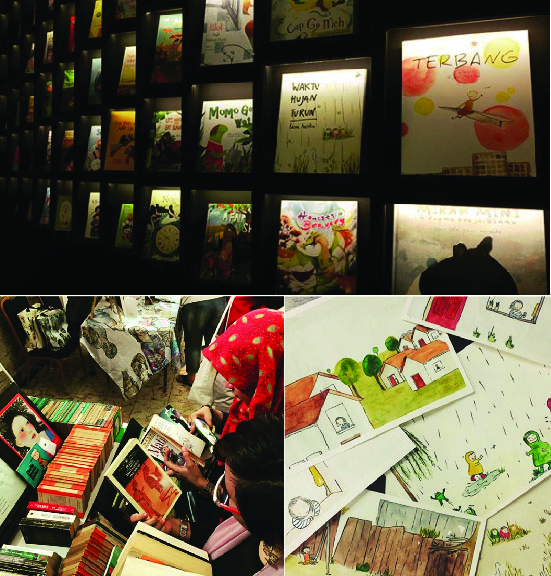 SEUMPAMA IS A JAKARTA BASED BOOK-STUDIO THAT CREATES, SHARES, AND PUBLISHES BOOKS. WE AIM TO PUSH THE QUALITY OF OUR INTERACTIONS WITH BOOKS AND READINGS THROUGH NARRATIVES AND IMAGERY.
What started as a book project among two friends ended up becoming an endless exploration of books, readings, and the interaction it provides for humans. Ninit merely wanted to have more options for local children book for her new-born daughter when she turned to Rassi, one of her closest friends, who have always wanted to have her own bookstore. That afternoon coffee-talk was the beginning of Seumpama. Along the way, our old friend Amel kept coming to every single pop-ups and meeting we had. She came with her oohs and aahs for every single classic title we had, and in addition she's a very good consultant by profession. So we popped the question if she wanted to take part in this crazy adventure, and she said yes.
Our raison d'être is a fusion of bookstore and publisher with a studio attitude: practice and errors are made to find new ways for sharing, creating, publishing, and interacting with stories. We try to find new ways to make stories and books remain relevant and fresh. Our humble brag is that we curate every piece of classics we bring and give a different angle of appreciating them: most are a one-copy-only in our collection; while our original published books attempt to come with stories that are important to be told.
As a small publisher, we have been actively producing picture books, a genre that started us as readers, and we love to give more excitement to more young readers, and remind the adults of the innocence and possibilities that we all had when we were younger. Seumpama debut as a brand while introducing its first published book: Terbang. We are building up the body of our works with new stories that comes from our studio and potential collaborations with emerging authors and/ or illustrators. Our books have been been featured in book fairs in Bologna, London, Beijing, and Thailand; and our second book, Waktu Hujan Turun by Rassi Narika, had been translated and published by The Emma Press, an award-winning independent bookstore in UK. When It Rains UK Tour will also take place on May-June 2019. Cerita Eyang – written by Referika Rahmi and illustrated by Rassi Narika – also gained attention for discussing about quirks and differences, as we look into the art of embracing them.
Our latest book, Robot Paling Keren, was launched on November 2021, written and illustrated by Rassi Narika. It tells the story of two friends who insist that their robot is the coolest. The book is a conversation about what is left when we try to insist our beliefs to others. 
–
To visit our collection click here. Our real book shelves will be available whenever we participate in various events.