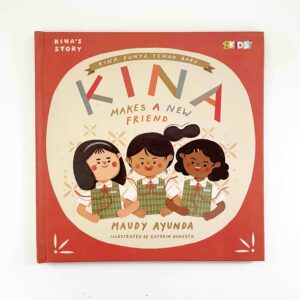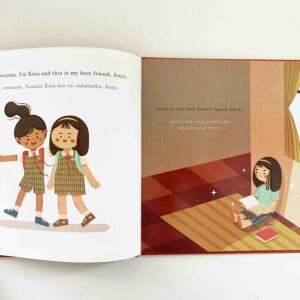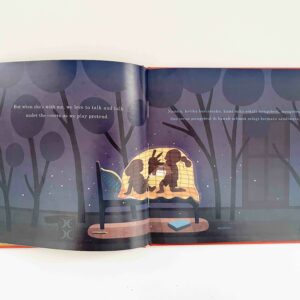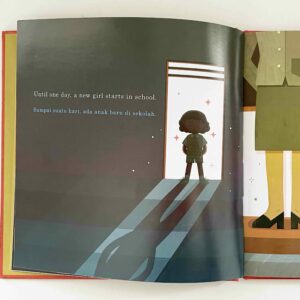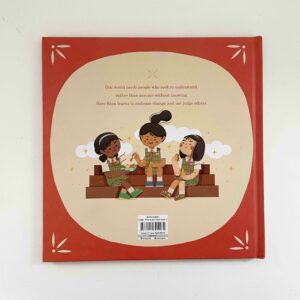 Kina Makes A New Friend
Our world needs people who seek to understand, rather than assume without knowing. Here Kina learns to embrace change and not judge others.
Dunia kita membutuhkan orang-orang yang mau memahami, bukan hanya berasumsi tanpa mengerti. Dalam kisah ini, Kina belajar merangkul perubahan dan tidak menghakimi sesama.
—
This book and the Kina's Story Series is the result of a beautiful coincidence. It is a retelling of short stories I wrote when I was 10 years old, found accidentally in my old archives. With some encouragement, I decided to simplify it and share it to the world with a mission: to promote literacy, bilingual learning, and meaningful moral stories accompanied by captivating imagery as beautifully crafted by my good friend Kathrin.
I hope that all of us – adults and children alike – can smile and find inspiration from these pages.
Buku ini dan seri Kina adalah hasil dari kebetulan yang indah. Cerita-cerita ini saya ceritakan kembali dari cerita pendek yang saya tulis waktu berusia 10 tahun, yang tidak sengaja saya temukan di arsip lama saya. Dengan sedikit dorongan, saya memutuskan untuk menyederhanakannya dan membagikannya dengan sebuah misi: mempromosikan literasi, pembelajaran dwi-bahasa, dan cerita dengan pesan moral penuh arti; bersama penggambaran yang memukau hasil karya Kathrin, teman baik saya.
This book is bilingual with both English and Indonesian text.
Buku ini adalah buku bilingual dengan teks dalam bahasa Inggris dan bahasa Indonesia.
Rp99,000.00
3 in stock
Maudy Ayunda is an Indonesian singer-songwriter, actress, and activist. She graduated from Oxford University in 2016, and commits most of her time in music, writing, and promoting social causes surrounding youth, literacy, and education.
Kathrin Honesta is an Indonesian illustrator who focuses more of story telling and book-related projects. Kathrin's works often tell stories of faith and people. To her, artwork is not merely about pretty aesthetics, but also the message it conveys.
—
Maudy Ayunda adalah penyanyi-pencipta lagu, aktor, dan aktifis dari Indonesia. Ia lulus dari Universitas Oxford tahun 2016 dan mendedikasikan waktunya untuk musik, menulis, dan mempromosikan isu-isu sosial terutama dalam konteks anak muda, literasi, dan pendidikan.
Kathrin Honesta adalah seorang ilustrator dari Indonesia yang memfokuskan karyanya ke proyek-proyek yang terkait penceritaan dan buku. Karya Kathrin seringkali berverita tentang iman dan manusia. Baginya, karya seni bukan hanya bicara tentang hal-hal yang indah dilihat, tapi juga tentang pesan yang disampaikan.
| | |
| --- | --- |
| Weight | .3 kg |
| Dimensions | 21.5 × 21.5 × 1 cm |
| Format | Hardback |
| Illustrator | |
| ISBN | |
| Language | |
| Publisher | |
| Writer | |
You May Also Like..
Includes products updated are similar or are same of quality