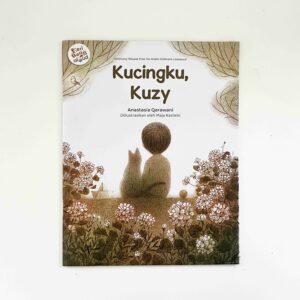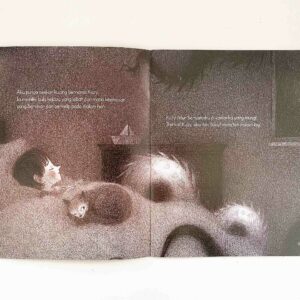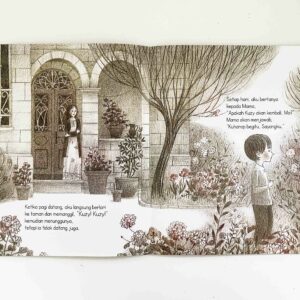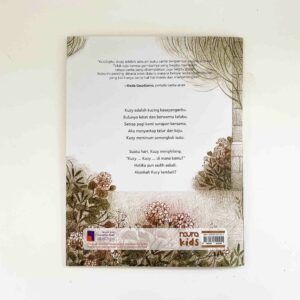 Kucingku Kuzy
Kuzy adalah kucing kesayanganku.
Bulunya lebat dan berwarna kelabu.
Setiap pagi kami sarapan bersama.
Aku menyantap telur dan keju.
Kuzy meminum semangkuk susu.
Suatu hari, Kuzy menghilang.
"Kuzy.. Kuzy.. di mana kamu?"
Hatiku pun sedih sekali.
Akankah Kuzy kembali?
—
"Kucingku, Kuzy adalah sebuah buku cerita bergambar yang luar biasa. Tidak saja karena gambarnya yang begitu menawan, tetapi cerita yang disampaikan juga begitu indah. Buku ini penting dibaca anak dalam masa ia belajar tentang kehidupan. yang tak hanya berisi hal-hal manis dan menyenangkan." (Reda Gaudiamo, penulis cerita anak)
Rp59,000.00
3 in stock
Ditulis dalam bahasa Arab, dan pertama kali diterbitkan oleh Penerbit Al Salwa, Yordania di 2018. Diterjemahkan dengan bantuan pendanaan Sharjah International Book Fair Translation Grant Fund.
Anastasia Qarawani adalah seorang penulis dan ilustrator. Dia belajar Bahasa dan Sastra Inggris di Arab American University, kemudian mengejar gelar M.A. di bidang Komunikasi dan Sastra Antarbudaya. Dia telah menulis cerita sejak masa kanak-kanak, dan dia selalu bermimpi menjadi seorang penulis. Pada 2012, dia menulis dan mengilustrasikan buku anak-anak yang memenangkan penghargaan tahunan "Al-Awda" di Palestina. Sejak itu, dia telah mengilustrasikan beberapa buku Sebagai penulis, dia mencoba menyentuh masalah sensitif yang dapat dikaitkan dengan seorang anak, yang dapat membantunya mengembangkan dan menemukan jati dirinya.
Maja Kastelic adalahs eorang penulis lepas dan ilustrator. DIa adalah penulis A Boy and a House, buku bisu yang mendapatkan penghargaan. Dia belajar Seni Lukis di Akademi Seni Rupa dan Desain di Ljubljana (B.A.) dan Filsafat dan Teori Budaya Visual di Fakultas Ilmu Budaya di Koper (M.A.). Dia mulai berkecimpung di bidang ilustrasi pada 2012 dan sejak itu dianugerahi penghargaan Hinko Smrekar (2012) dan Hinko Smrekar plaquette (2014), baik pada Slovenian Biennial of Illustration, penghargaan Best Slovenian Picturebook Awar dan Levstik's Prize untuk ilustrasi terbaik (keduanya 2015). Karyanya terpilih untuk pameran Bologna Illustrators (2015) dan A White Raven (2015, 2016). Dia tinggal di Trebnje, Slovenia.
| | |
| --- | --- |
| Dimensions | 27 × 21 × 0.2 cm |
| Format | Paperback |
| Illustrator | |
| Writer | |
| ISBN | |
| Language | |
| Publisher | |
You May Also Like..
Includes products updated are similar or are same of quality