MEETING THE WORLD AT DAUNT BOOKS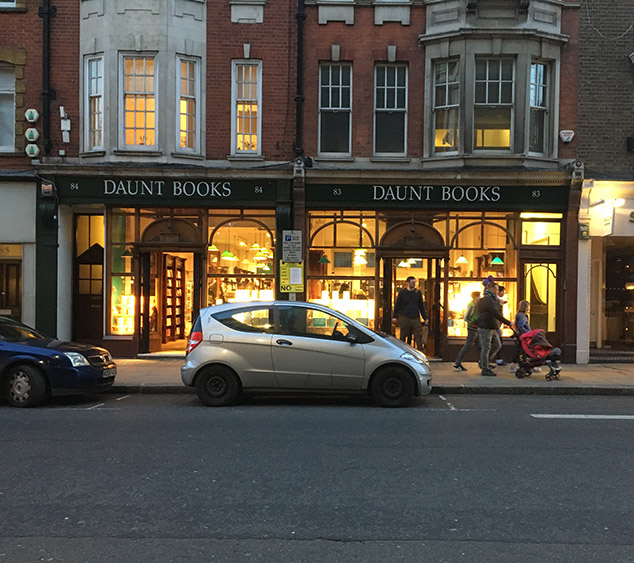 This post is a part of our Literary Stop series.
Literary Stops is a series of stories abour our encounters with places, people, or things that halt our routines, and made us think about books and stories. Some of them are planned, some just presented themselves in front of us and give us a moment of escapade from reality. We're now at our first stop(s) in London.
–
You may have seen the Daunt Books shop somewhere: a beautiful Edwardian front, arched window interior, or tourists walking down the streets of London carrying tote bags of with sketches of the store printed on it. The only thing those portrayal couldn't captured is the store's magic.
Entering the store, I felt that it was actually smaller than I thought it would be. The pictures I've seen somehow made the shop looked bigger and more spacious. But the vastness of its seemingly small space apparently comes from its richness collection of stories.
Their website mentioned that its books are "arrange(d) principally by country, whatever the nature of the book – fiction or non-fiction, biography, history, guide or novel – and in so doing creating wonderful browsing both for the traveller and the general reader". At Daunt Books, you get a seriously enticing collection of books from different parts of the world.
The titles, authors, and setting of stories give platform to what you can find. The rich of culture was obvious in their selection. And even though the phrase 'books are windows of the world' can be tedious, Daunt Books allows it to manifest here.
I could imagine myself wandering to each shelf and hanging down to read the whole day through the titles from the Spain or Russian shelf, or make my way down to the basement for some American or Asian reading.
Of course I couldn't wander without checking if they have any lead to the Indonesian author they had in the South East Asian section. There are the must-haves Pramoedya Ananta Toer and Eka Kurniawan, but, really, if we compare with the Korean or Japanese titles that they have, our literary works still have a long way to go.
If you can make your way to its first shop in Maryleborne High Street, I'd totally recommend that; and let us know how its magic translates to your visit.