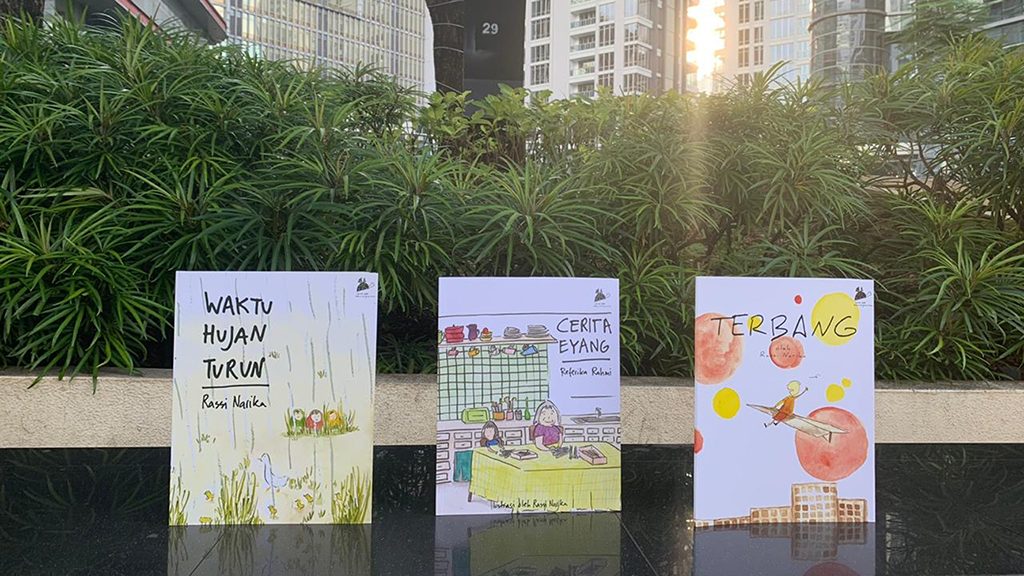 Scroll untuk informasi dalam Bahasa Indonesia.
Why do you call yourself a book studio?
It was actually just a term we liked because when we first started we didn't dare to claim ourselves as a publisher (we haven't published any book yet), nor a shop because we didn't have one. A book studio seemed to be the right name to call ourselves, because even when we are not publishing or selling things, we always have a 'room' – be it a physical or mental one – to create our literature work in.
It may sound pretentious at first, but we ended up really liking the term. We like the energy of a studio where you throw, nurture and develop ideas, which is how we want to approach every story that we make. Think of a recording or a movie studio. It may be experimental, but it sure is versatile.
Are you a publisher or a book shop?
As much as we don't plan to limit ourselves on what we do, our activities do include: publishing and selling books. But we also do pop-up bookstore, make story telling, conduct art and writing workshops in relation to the book we create, and engage with our readers through stories. So, you can call us a publisher or an online bookshop, if it's easier for you. We occasionally introduce ourselves in the more familiar terms too. But we're not planning to limit ourselves in what we can do with stories, books, and literature.
Are you a children book publisher only?
We don't specify ourselves as a children publisher only. Our team has a vast array of preferences in literature, and we want to do a lot of different genre in the future.
However, currently we are focusing in producing children literature material, specifically picture book. We want to make sure that we help create content that help making reading a fun thing to do for the young ones, so that they can grow up being comfortable with reading and literature.
Where is your office? And do you have a shop?
Unfortunately we don't have one that is open for public yet.We really want to have one, so you can visit our books collection over lavender tea or hot coffee too. But until that happens, you can buy our books from our stockists, or through our webstore. When schedule allows, we do pop-up events, where we will display our books–both secondhand and Seumpama's publishing ones. We will update our event calendar when we're doing one and we always inform our followers on Instagram, Facebook, or Twitter. Optionally, you can also sign up for our newsletter, to get a regular updates on what we do.
Why do most fictions only available in as a last piece?
Well, when we curate them, they are only available in its last piece too. So better grab'em when you see no 'SOLD OUT' label on it.
I live outside of Indonesia, can I place an order?
Yes, you can, but please leave us a message before putting your order in to calculate a more exact shipping quote for your order based on weight and delivery distance, as well as the currency exchange when you prefer to pay with your own currency.

Can I return an item?
Only for Seumpama published book, and only when it has any defect or imperfection in its pages. Please send us an email at hi@seumpama.com, if you need to do this.
What is your privacy policy?
Your information is only used to process your order and will never be shared with other parties. You will never be contacted with promotions or announcements unless you opt-in to email updates.
How does ordering works?
Choose the book(s) you'd like to order in your cart
Create an account if you haven't had one.
Checkout to know what's the total order. You will also receive a copy of your invoice in your email. It will appear with information of our bank reference to make your payment.
Confirm your payment here. It will help us to make sure that the order is ready for shipping.
Once confirmed, we will dispatch an email to inform you about the shipping status and reference number if you want to track the order.
I'd like to buy in bulk. How does the shipping rated?
Our system has managed to consider each book's weight to quote your shipping rate. But if you're not sure, feel free to contact us first before putting your order in.
Can I share your image?
You can, as long as you link it back to us, whether you find it at our website or our social media accounts. Images are not to be used for other purposes and not to be altered. All content on this website is copyrighted. This policy also applies to any original illustrations that we use in out content. If you need hi-res images for features, please drop us an email.
Do you accept consignment?
Yes, we do but books published by Seumpama only. Send us an email with the details of your store and we will inform you about our T&C.
Can I sell my book on your store?
It depends. We curate every book we sell on our store. You can send us a copy of your book and we will let you know.
Thank you for your support! Still have a question? Email hi@seumpama.com and we'll get back to you promptly!
---
Mengapa Seumpama disebut studio buku?
Saat kami memulai Seumpama, kami belum sepercaya diri itu untuk menyebutnya sebagai penerbit (karena kami belum menerbitkan apa pun), atau pun toko buku, karena kami memang belum punya toko. Istilah studio buku kami buat karena bahkan saat kami tidak sedang menerbitkan atau menjual buku, selalu ada ruang – secara fisik maupun mental – untuk menciptakan karya literatur.
Awalnya memang terdengar dibuat-buat, tapi lama-lama kami suka sekali dengan istilah ini. Kami suka energi studio karena di dalamnya ide dilempar, disemai, dan dikembangkan; inilah pendekatan yang kami ingin lakukan di setiap cerita yang kami buat. Mungkin seperti studio film atau musik. Eksperimental memang, tapi cocok untuk segala kebutuhan kami dalam berfungsi.
Jadi Seumpama itu penerbit atau toko buku?
Kami menerbitkan buku, membuat toko buku kagetan, menceritakan cerita yang kami buat, berinteraksi dengan pembaca – apa pun itu selama masih berhubungan dengan cerita dan sastra. Jadi, agar mudah, Anda bisa menyebut kami sesuai preferensi Anda. Terkadang kami juga memilih sebutan yang lebih dikenal. Hanya saja, kami tidak ingin membatasi apa yang bisa kami kerjakan dengan cerita, buku, dan sastra.
Apa Seumpama itu penerbit khusus buku anak?
Kami tidak mengkhususkan diri sebagai penerbit buku anak saja. Anggota tim kami punya ketertarikan genre yang berbeda, dan kami ingin melakukan banyak hal di genre yang berbeda ke depannya.
Namun, saat ini, kami memang sedang memfokuskan diri untuk memproduksi buku cerita anak, terutama buku ilustrasi (picture book). Kami ingin membuat konten bacaan yang menyenangkan untuk para pembaca kecil, supaya mereka bisa tumbuh merasa nyaman dengan kegiatan membaca dan sastra.
Di mana kantor atau toko Seumpama?
Sayangnya, kami belum punya kantor atau toko buku yang bisa dikunjungi. Kami ingin sekali membuka tempat kami sendiri suatu hari nanti. Jadi, sampai hari itu tiba, Anda bisa membeli buku kami dari para reseller, atau lewat webstore kami.
Kami berusaha mengadakan acara-acara pop-up, di mana kami akan membawa buku-buku yang kami jual — baik yang secondhand atau pun judul yang kami terbitkan sendiri.
Nantikan update kegiatan kami di kalender kegiatan kami, atau ikuti Instagram, Facebook, atau Twitter kami. Anda juga bisa mendaftar untuk menerima newsletter kami untuk mendapatkan update secara berkala.
Mengapa buku fiksi di Seumpama selalu ada tulisan 'last piece'?
Karena buku-buku itu kami kurasi, dan untuk yang second hand, memang hanya bisa kami dapatkan satu saja. Jadi, pastikan Anda mendapatkannya selama belum ada tulisan 'SOLD OUT' nya.
Saya tinggal di luar Indonesia, apa saya bisa memesan?
Bisa, tapi silakan tinggalkan pesan untuk kami, sebelum Anda memesan, supaya kami bisa menghitung estimasi biaya pengiriman sesuai berat dan jarak pengiriman, juga sesuai dengan nilai tukar mata uang asing, jika itu jadi pilihan Anda.
Apa saya bisa mengembalikan barang yang saya beli?
Bisa, hanya untuk buku terbitan Seumpama, dan hanya jika ada ketidaksempurnaan di halaman bukunya. Silakan hubungi kami di hi@seumpama.com untuk detailnya dengan bukti pembayaran.
Bagaimana kebijakan privasi Seumpama?
Informasi yang Anda berikan hanya akan digunakan untuk proses pemesanan Anda dan tidak kami bagikan kepada pihak lain. Anda tidak akan kami hubungi untuk kebutuhan promosi atau pengumuman lainnya, kecuali jika Anda memilih untuk menerima email updates.
Bagaimana proses pemesanan di Seumpama?
Pilih buku yang Anda ingin pesan.
Pastikan Anda sudah memiliki akun pribadi di Seumpama.
Checkout untuk melihat jumlah total pemesanan. Anda juga akan menerima salinan invoice Anda via email. Di dalamnya, Anda juga akan menemukan informasi nomor rekening bank kami untuk melakukan pembayaran.
Konfirmasi Pembayaran Anda di sini. Ini akan memberi notifikasi kepada tim kami untuk menyiapkan pesanan ke proses selanjutnya: pengiriman.
Setelah berhasil terkonfirmasi, kami akan mengirimkan email untuk menginformasikan status pengiriman dan nomor tracking pengiriman.
Saya ingin membeli dalam jumlah banyak. Bagaimana dengan biaya pengirimannya?
Sistem kami sudah disiapkan untuk memperhitungkan berat setiap item yang Anda pesan. Namun, jika Anda tidak yakin, silakan hubungi kami di hi@seumpama.com sebelum memasukkan pesanan Anda.

Apa saya boleh menggunakan foto yang ada di web ini?
Boleh, asal Anda tidak lupa memberikan informasi tentang Seumpama dalam kredit foto, dan memberikan link itu kembali ke lokasi foto tersebut, baik di website atau di akun sosial media kami. Foto-foto yang ada tidak boleh digunakan untuk kebutuhan yang tidak berhubungan dengan tujuan awal foto tersebut, juga tidak boleh ditambah/ dikurangi secara visual. Ketentuan ini juga berlaku untuk ilustrasi asli yang kami pakai dalam konten kami. Jika Anda membutuhkan foto dengan resolusi tinggi untuk liputan, silakan email kami di hi@seumpama.com.

Apakah saya dapat menjual Buku Seumpama?
Anda bisa menjadi consignee untuk buku terbitan Seumpama. Anda dapat mengirimkan email dengan deskripsi toko anda dan kami akan menghubungi anda kembali dengan syarat dan ketentuan yang berlaku.
Apakah saya dapat menjual buku saya di toko Seumpama?
Setiap buku yang kami jual di toko kami kami kurasi dan pilih secara khusus. Silakan kirim satu buku and, supaya kami bisa menilai kesesuaiannya, dan kami akan menghubungi anda kembali.
Terima kasih atas dukungannya! Masih punya pertanyaan? Hubungi kami di hi@seumpama.com dan kami akan segera menghubungi Anda kembali.