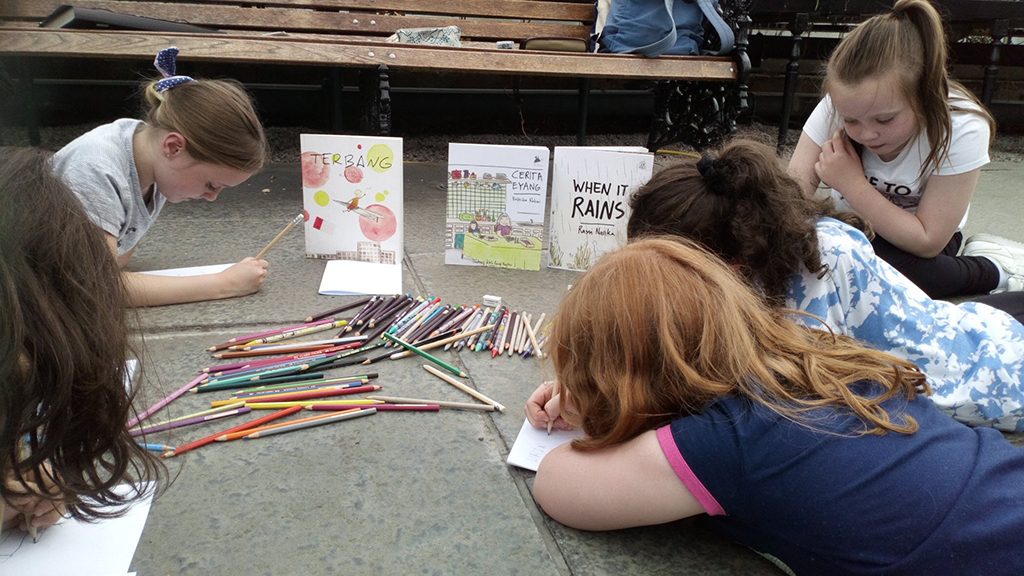 Scroll for English Translation
Kami biasanya menerbitkan 1-2 judul setiap tahunnya, dan karena tim kami kecil, kami mengerjakan semuanya dalam 'studio' kami, kecuali urusan mencetak buku. Buku-buku pertama kami adalah naskah asli yang dikembangkan oleh studio kami.
Saat ini kami sudah memiliki judul yang akan diterbitkan di tahun 2023. Jadi kami sedang tidak membuka undangan untuk mengirimkan naskah; namun kami selalu terbuka untuk mempertimbangkan materi yang kami suka, dan penting untuk dibaca.
Karena kami tidak sedang membuka panggilan untuk naskah baru, kami tidak punya tenggat waktu untuk karya baru yang dikirimkan. Biasanya kami akan merespon jika ingin tahu lebih banyak tentang materi yang dikirimkan. Pengajuan naskah dikirimkan ke editor@seumpama.com.
Berikut adalah panduan untuk mempersiapkan materi dan untuk membantu kami menilai karya.
Naskah dan lampiran yang tidak memenuhi panduan ini mungkin akan mempengaruhi pendapat kami, tapi tidak selalu. Jika ceritanya menarik, mungkin kami ingin mengobrol lebih jauh dulu. Kami akan menghubungi jika ingin melihat naskah dalam bentuk hardcopy.
Saat ini kami tertarik dengan picture book/ buku dengan ilustrasi dan chapter book untuk anak-anak, yang mendorong membaca untuk kesenangan dan dengan tema-tema yang bisa seimbang antara menceritakan suara dan kebijaksanaan anak-anak serta alternatif tema yang kelihatannya sederhana namun penting untuk anak-anak.
Naskah Picture Book
Saat ini kami memprioritaskan naskah dalam bahasa Indonesia.
Naskah harus lengkap. Format untuk picture book adalah 32 halaman, termasuk sampul depan dan belakang. Jika naskah Anda lebih dari 32 halaman, jumlah halaman harus dalam kelipatan empat (36, 40, 44, dst.)
Materi yang tidak lengkap akan tidak kami tinjau ulang.
Kami ingin melihat sketsa ilustrasi dalam buku Anda, sebagaimana Anda bayangkan buku itu dibaca. Jika Anda belum punya ilustrator pilihan untuk mengerjakan naskah Anda, sertakan saja sketsa kasar dengan sedikit deskripsi tentang apa yang Anda bayangkan diilustrasikan.
Tidak ada batasan jumlah kata, namun pastikan Anda memberitahu kami siapa target pembaca Anda. Untuk pembaca awal, tentu kami mengharapkan jumlah kata yang lebih sedikit. Jadi pastikan Anda menyesuaikan jumlah kata tersebut dengan pembaca Anda.
Naskah harus dalam format PDF.
Lampirkan juga
Satu halaman cover letter yang berisikan: biografi diri (100 kata) dan sinopsis singkat tentang karya Anda (100 kata).
Sampaikan secara singkat: apa visi Anda lewat cerita dalam naskah ini? Apa tujuannya? Apa pesan yang ingin disampaikan dan kenapa itu penting? Dan siapa target pembaca Anda? (300 kata)
—
We usually publish 1-2 titles per year, and as a small team, we do everything ourselves in our so-called studio, except for printing. Our first titles are original manuscript that our studio created.
Currently, we already have titles to be published in 2023. Hence don't have any open call for script submission, but we are always open to consider works that we like and think matters for our readers. 
Since we are not doing any open call, we don't have any deadline. But you can expect hearing from us two months after we first received your manuscript. Applicants are advised to submit complete applications to editor@seumpama.com.
Here are some guidelines to help you prepare your work for the submission and for us to review your work manuscripts.
Incomplete submissions and manuscripts that do not conform to these guidelines may not be reviewed or affect our interest in your work. But, if it's good we might just be interested to open up conversations on the material. Please do not send hard copy manuscripts.

We are currently interested with picture book and chapter book for children, that encourage reading for pleasure and cover themes that gives balance to children's voice/ wisdom and alternative theme that may seem simple but matters for children.
Picture Book Submissions
We are currently prioritising manuscript in Indonesian.
Manuscripts should be complete and book-length. For picture book are looking into a 32 pages format, including front and back page. Please look into our layout template for your reference. Incomplete materials or have insufficient length may not be reviewed.
We really like to see the picture books draft in the way you imagine it to be made. So even if you don't have any illustrator to work with yet, we would want to have a simple draft or description on the illustration aspect of the book.
No minimum words, but please let us know who are your targeted readers. Of course we'd expect less words for early readers. So, adjust your content accordingly.
Manuscripts should be in PDF format.
Also attach:
A one-page cover letter with biographical statement (100 word ) and a synopsis of the manuscript. (100 word )
An overview to summarise your manuscript's vision. What is the objective of your manuscript? What message that you want to convey and why is it important to be published? Who is your target audience? (300 word)