Terbang: A Musical Show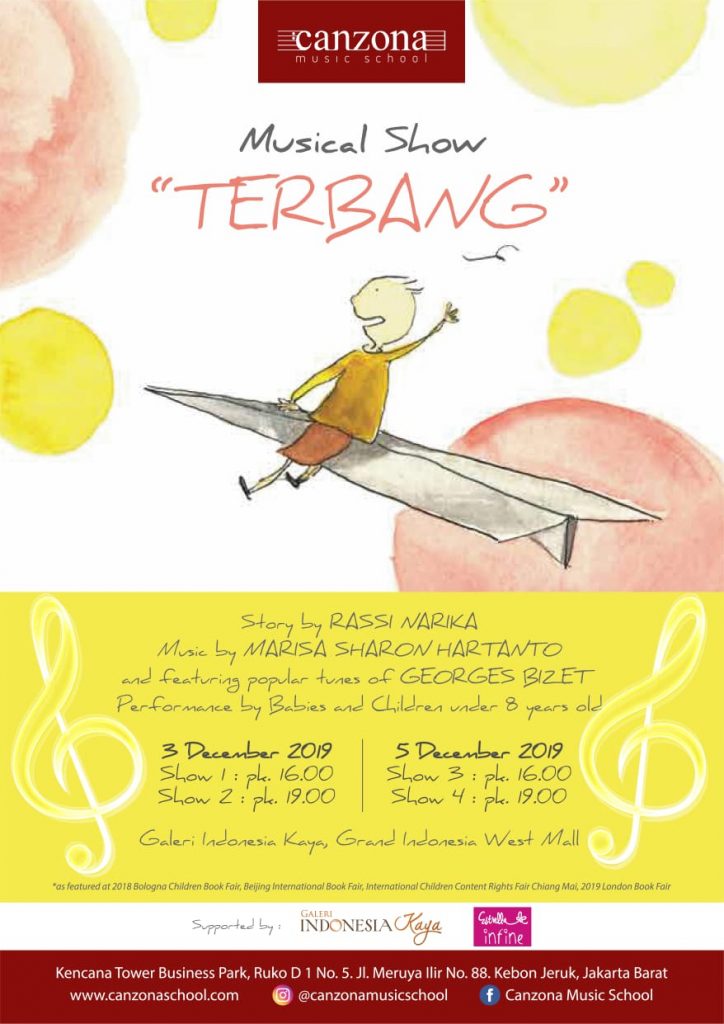 Kabar keseruan terbaru kami datang karena Desember nanti, Terbang, buku pertama yang kami terbitkan di Seumpama akan ditampilkan secara musikal di pertunjukkan tahunan Canzona Music School.
Musisi-musisi kecil yang sedang belajar di Canzona akan membawakan komposisi musik buatan Marisa Sharon Hartanto dan karya-karya George Bizet yang dipadukan dengan lirik lagu yang diadaptasi oleh Rassi Narika dari naskah ceritanya sendiri. Sharon dan timnya sudah menyiapkan pertunjukkan ini dari awal tahun, dan kami sudah sedikit mendengar cuplikan lagu-lagunya. And we are so excited to see the new perspective and feel that it brings!
Marisa Sharon Hartanto mendapatkan gelar Master in Composition dari Royal Holloway University of London di tahun 2013. Di tahun yang sama ia juga dipilih menjadi salah satu associate composer untuk Soundhub London Symphony Orchestra. Setahun sebelumnya Sharon memenangkan kompetisi komposer Baroque Remixed Project 2012 National Postgraduate yang diadakan oleh BBC Concert Orchestra. Sejak kembali ke Indonesia, Sharon dan karya komposisi ciptaannya telah dimainkan di berbagai belahan dunia.
Kami tak sabar melihat cerita baru yang muncul lewat tangan-tangan kecil para musisi. Ikuti terus update terbarunya di @seumpamabooks ya!