TERBANG DAN WAKTU HUJAN TURUN KINI DI AKSARA
The Re-birth of Aksara Bookstore tanggal 21 Juli kemarin, menjadi perayaan 'pulang kampung'-nya toko buku independen kecintaan kami di Kemang. Aksara kini hadir dengan kesegaran baru untuk masyarakat pecinta buku di Jakarta, yang paling kami suka: kolaborasinya dengan Post Bookshop (iya, yang di Pasar Santa) untuk kurasi judul-judul buku dari penerbit independen lokal. Ada satu pojok khusus Post Picks untuk rekomendasi judul yang Post berikan, dan Post x Aksara juga akan rutin mengadakan acara literatur bersama setiap tiga bulan.The Re-birth of Aksara Bookstore adalah acara kolaborasi perdana dan menjadi malam bertemunya kami dengan Aksara yang baru.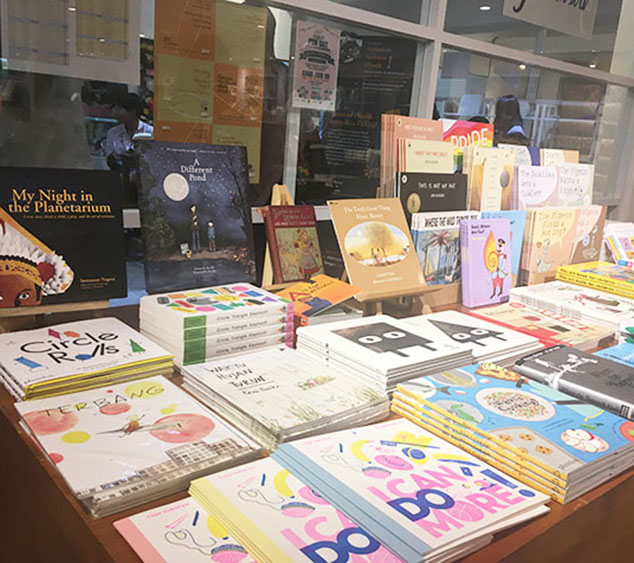 Judul keluaran Seumpama, Terbang dan Waktu Hujan Turun, juga hadir di sana. Keduanya bisa ditemukan di pojok buku anak – bersama karya Binatang Press dan judul buku berbahasa Inggris lainnya. Kami benar-benar kesenangan sendiri melihat judul yang begitu dekat dengan hati kami kini berbagi meja dengan karya-karya Binatang Press, Maurice Sendak, John Klasse, and Oliver Jeffers; dan menjadi bagian dari cerita baru Aksara.
–
The Re-birth of Aksara Bookstore held last July 21st, commemorated the home-coming of Jakarta's beloved independent bookstore in its Kemang headquarter. The bookstore also teams up with our other favourite independent shop, Post Bookshop (yes, the one at Pasar Santa!), to feature more work from local independent publisher as well as tri-monthly literature event. The Rebirth of Aksara Bookstore was their first collaborative event and marked our re-encounter with the new Aksara.
Our titles, Terbang and Waktu Hujan Turun, will also be available . They are featured at their children's corner – along with works from Binatang Press and international titles. We are excited to share the display table with works from Binatang Press, Maurice Sendak, John Klasse, and Oliver Jeffers; and to be part of Aksara's new story.
Aksara is at Jl. Kemang Raya No.8B, Jakarta Selatan 12730