The Book Making Playlist
Di balik proses berkarya di Seumpama, musik mengambil peranan penting. Kami merasa di setiap cerita, buku, content, atau pun kata-kata yang kami pakai saat berkomunikasi dengan teman-teman Seumpama, ada musik yang menjadi latarnya. Kami pun mulai mencari cerita di balik layar yang kami lakukan, dan lahirlah The Book Making Playlist.
The Book Making Playlist adalah playlist yang disiapkan dan dikurasi oleh penulis/ ilustrator yang mengerjakan buku cerita yang diterbitkan Seumpama. Di dalamnya adalah lagu yang dipakai penulis/ ilustrator untuk menemani dan menginspirasi cerita yang mereka buat. Ini ruang baru kami untuk bercerita, kali ini dengan menggunakan lagu/musik yang menjadikan karya kami ada.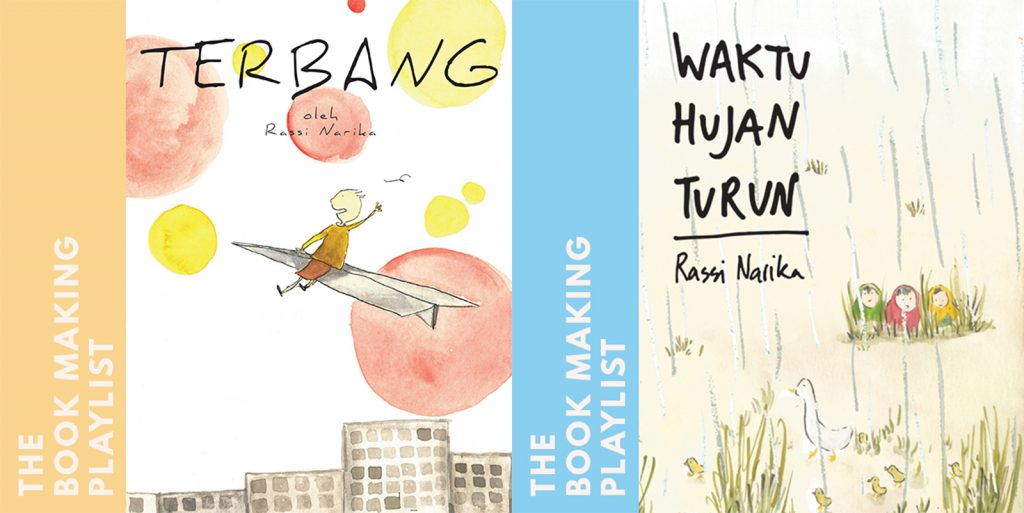 Dua playlist sudah disiapkan di akun Spotify Seumpama, oleh Rassi Narika, untuk menceritakan atmosfer pembuatan Terbang dan Waktu Hujan Turun/ When It Rains. Ilo dan kawan-kawan tercipta bersama alunan Joe Hisashi, Zee Avi, David Bowie, sampai Foo Fighters saat Terbang disiapkan, sementara Bonnie Pink, Florence and the Machine, sampai Pink Martini, Billie Holiday, dan Bon Iver menemani perjalanan Kira dan teman-temannya menelusuri hujan.
Coba dengarkan, dan apa kamu bisa temukan musik yang akhirnya masuk dan menjadi bagian dari karya?
The Book Making Playlist bisa diikuti di akun Spotify Seumpama.