BEHIND TERBANG: PART 1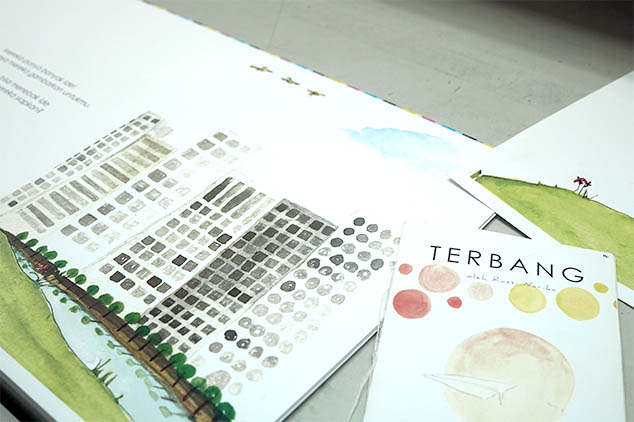 We're currently working  on the production latest title of our published work. Refining to the lesson learned from our past production, we revisited our journey with Terbang. As we did that, we thought it would be nice to throw in the behind-the-scene of Terbang. This is the first part of the story.
Our second title is a children book written and illustrated by Rassi Narika, coming up in October 2017.
THE IDEA
Seumpama and Terbang has a chicken-egg kind of relationship. Without the idea of creating a children book, Seumpama wouldn't have been conceived; and without Seumpama, Terbang would be just another unpublished project.
The story of Terbang itself was born out of Rassi's fear of height but amazement of flying. As a younger child, Rassi was always mesmerized to when Peter Pan adviced Wendy to jump from her bed at the orphanage to start flying. Later on, when she finally went to fly on an airplane, she always enjoyed looking unto the city getting smaller and unraveling the whole city view from the sky. There's something about the sky that offers the possibilities of going beyond what can be – or usually is – seen.
Through Ilo and his friends, Ara, Lila, and Ana, Rassi wishes to recreate the voice of children even when it may flaw in adulthood reasonings. She believes that there are wisdom in children that a lot of times were interpreted using adults' logical narrative, creating the limitless possibilities seemingly supressed
THE RESEARCH
Once the initial words and illustrations were created and edited, Terbang's manuscript were shared to friends who are moms and dads, and those with psychology background. Criticisms and feedbacks were valuable even when it triggered to the insecurity of incompetence. The final Terbang book, was a result of numerous refined and revised process.
In a broader approach, a mini-market research was done. We invited moms, fellow readers, and anyone who are into books and reading to share us their thoughts for Terbang and the sustainability of Seumpama.
This research was helpful to find a base to what we were doing. It confirmed hypothesis, and tackled biased and vague expectations. It took us one year to work on the formula and model of the Terbang and Seumpama.