RE-IMAGINING ROALD DAHL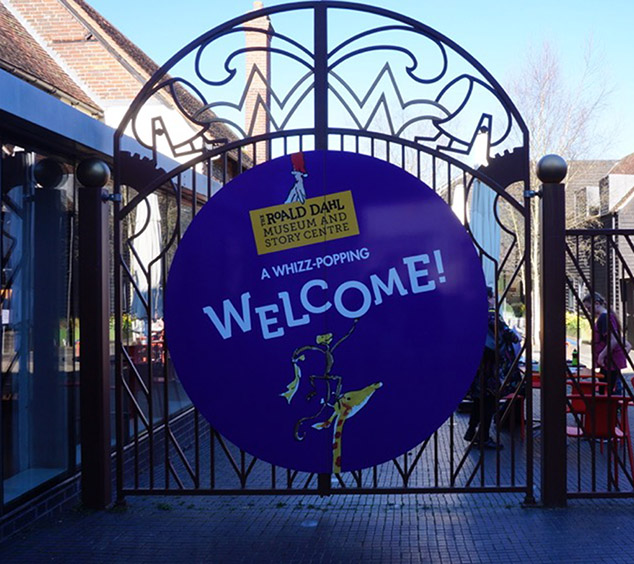 This post is a part of our Literary Stop series.
Literary Stops is a series of stories abour our encounters with places, people, or things that halt our routines, and made us think about books and stories. Some of them are planned, some just presented themselves in front of us and give us a moment of escapade from reality. We're now at our first stop(s) in London.
–
The Roald Dahl Museum and Story Center had been on my list when I was doing my study in UK, but it wasn't until I did my short trip there that I actually made my way to Great Missenden. It's a 45 minutes train trip from London's Marylebone Station and I had the treat of buy-one-get-one ticket offering to the museum – which you can easily claim by registering at the Chilterns Railway Service site and ordering the voucher (you can do that here).
The Museum was a five minutes walk from the station, and being the small village Great Missenden was, it was located at its high street.
It offers stories of Dahl's childhood – how he was the Charlie in his younger days, the witty, prankster, fun-to-be-with friend you wouldn't want to miss befriending with; how the teachers love his stories but often be the victim of his jokes; how he was attached with his mother.
Dahl's life as a RAF pilot also was part of the exhibition; but it wasn't until I got to his life as an author that my heartbeat went faster. A re-creation of Dahl's writing hut, in which he did his daily writing routine, the story of his families, and the talks of writing by fellow collaborators (hint: Sir Quentin Blake!) and writers were wonderfully amazing – or in Dahl's vocabulary, you can also say: wonderzingly amafull.
If your children soul was still in its spot accordingly, you can join Miss Honey's Classroom for the storytelling session or devour the Trunchbull's chocolate cake at Café Twits.
The Museum wanted to make sure the experience to Great Missenden is like the one that Dahl's had had. He did spent 35 years of his life – that's most of his writing career – in this small village, and based a large part of his stories from it: the town's library is where Matilda spent hours to immerse in Dicken's and Kipling's. The house just across the museum became the inspiration of Sophie's (n)orphanage at which she met BFG, Danny's petrol station like the one you'd find at 'Danny, The Champion of the World". It also involves a stop at the local church where Dahl was buried.
And so now let's take it further, because you can. You can also go tracking to the countryside landscape of the village. It felt surreal. You can actually feel like the Twits or following Danny and his father hunting the ducks, or simply be part of Mr. Fox's life, because it actually was how it was.
Dahl's writing are ones I go back to every time I feel I need to simplify my thoughts while staying witty and fresh. It's like a heartwarming refreshment that I could always 'come and see again'.
"We have tears in our eyes, as we wave our goodbyes, we so loved being with you… So do please now and then, come and see us again, The Giraffe, The Pelly, and me."