A BLOOMSBURY CORNER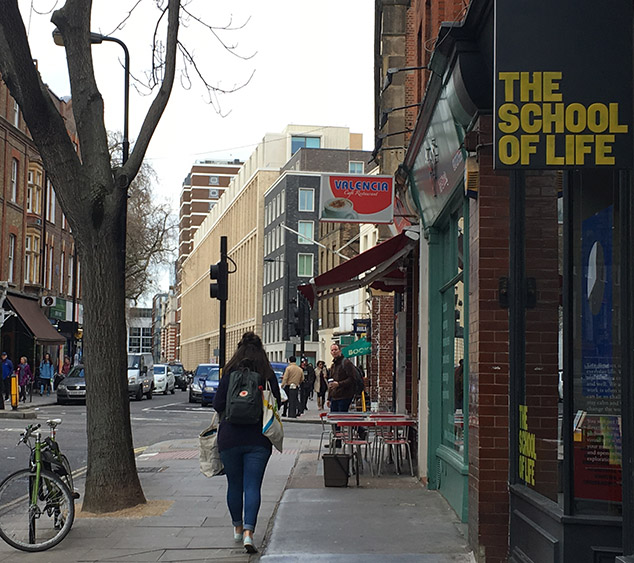 This post is a part of our Literary Stop series.
Literary Stops is a series of stories abour our encounters with places, people, or things that halt our routines, and made us think about books and stories. Some of them are planned, some just presented themselves in front of us and give us a moment of escapade from reality. We're now at our first stop(s) in London.
–
The Bloomsbury area is a hub of academics and literacy. The British Library, the Senate House (of the University of London), University College of London, School of Oriental and African Studies, as well as numerous academics institution are surrounding Bloomsbury. So, bumping into bookshops after a couple of steps, is a no-brainer. Alain de Botton's School of Life shop with its modern philosophy lays just doors away from the Gay Books.
The School of Life is apparently close on Sundays, so I thought I wouldn't be able to get any bookshop story on today's walk. So I continued my walk towards Russel Square, slowly and wandering-ly.
Judd Books appears out of nowhere as I proceed my walk. It may now be as provocativeness like Verso, or popular for its modern philosophy like School of Life, nor focusing on works of female writers like Persephone. It's simply a typical bookshop every neighbourhood in London would have.
With boxes of bargain books in front of its window display – which by then has been the main identification of a stop for me – and two floors of bargain and secondhand booksfrom fiction to social and photography.
Yes, you can confuse Judd Books with any other bookshop in the city. But it's always nice to find one without expecting, to bump a title that you've been wanting to read but always forget to get, to hand the coins to the shopmaster – a 70ish man which handles the transaction with a flare of humbleness and warmth.