SEUMPAMA ON JAKARTA GLOBE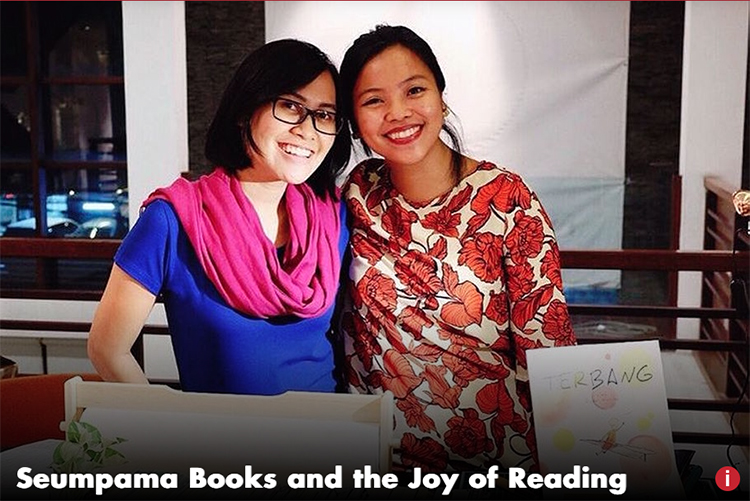 Seumpama was interviewed by Jakarta Globe. The interview was published on March 30, 2016. Thank you, Nico Novito for the awesome talk!
Jakarta. From the rising popularity of writers like Eka Kurniawan to the emergence of independent literary communities, books have lately become a much talked about subject in certain urban circles. Almost every weekend, avid writers and readers alike are frequenting book discussions, participating in poetry slams and hunting for rare books at indie stores across Jakarta.
Seumpama Books entered the scene late last year when the book studio started making appearances at literary gatherings in the city.
Co-founded by two friends Referika Nindya (Ninit), 30, and Rassi Narika, 29, the studio has a mission to bring back the joy of reading — and "celebrate narration through images and imagination," as their Instagram bio proclaims.
At the literary events they have participated in, the duo would normally bring and showcase stacks of vintage books from publishers like Penguin — sample titles include D.H. Lawrence's "The Lost Girl" and H.G. Wells's "The Invisible Man" — that people can browse and purchase.
In addition, Seumpama Books also acts as a publisher, having released a children's book titled "Terbang" ("Flying"), which Rassi herself wrote and illustrated.
Ninit and Rassi recently talked to the Jakarta Globe about the role of books in their lives, their view on Indonesians' reading interest and what the future holds for Seumpama Books.
Here is an edited excerpt from the conversation.
Jakarta has witnessed the emergence of literature communities as well as independent bookstores lately. Why did you decide to open a book studio — and how do you position yourself in the middle of this growing movement?
Rassi: We decided to start merely because there was a lack in the book and literature scene in Jakarta that couldn't really fulfill our appetite. I just got back from London where literature and independent bookstores were simply heaven and I started to develop an interest in illustrated books. Meanwhile, Ninit simply couldn't find enough Indonesian children books to fill her needs as a mother. So we moved from there. We weren't fully aware of the scene in Jakarta when we first started, so we did some research as we go. We found that book still has its relevance in the public and noticed a new wave of book communities and independent bookstores growing in Jakarta and other part of the country.
We want Seumpama to share and create books that let narration, illustration and imagination to interact with each other and with the public. We want it to be a something that gives alternatives to mind-wandering through books.
Have books always been an important part of your life? Which books or authors have a great impact on you?
Rassi: Growing up, my weekends and school vacations were filled with trips to bookstores. My parents never said no to buying books. I grew up to the stories of Roald Dahl and he remains my muse along with Quentin Blake, Michael Rossen and Neil Gaiman. Salman Rushdie, JD Salinger and Kurt Vonnegut's imaginative words and fluid yet intense works are my references when I write.
Ninit: I have read since I was a kid but my love for books were only born when I was in high school and later in college, where I studied French literature. Roald Dahl, Antoine de Saint-Exupéry, Hilman Hariwijaya and Dee Lestari were among my favorite authors.
You are collecting and selling vintage books, mainly from Penguin. What is the reason behind this? How would you describe the way you normally acquire and select these titles?
Ninit: Rassi and I had our literary references from Penguin. We love its classic look and content. It never feels intimidating to grab a Penguin book. As we started to decide how we wanted to build our book collection for Seumpama, we knew that we needed to have a Penguin collection.
Books from Penguin always let your mind wander; it's a brand that promises good quality books. We look up to them to offer quality exchange of ideas that mesmerize and doesn't intimidate. We found our books from when Rassi was studying in the UK — we corresponded with some vintage booksellers to acquire titles and authors that we wish to have. Our collections were built over time.
Seumpama Books published Rassi's children's book, "Terbang," late last year. Could you tell us about your inspiration and process in making the book? And what makes a good children's book, in your opinion?
Rassi: The inspiration was based on the realization that kids would never question [things] when they want to do something. They just make their way in doing it, including something that is seemingly impossible like flying. As kids, we daydream with clouds, make crazy plans with friends — something that we do less as adults. But I feel the sensation is relevant as an adult. More than ever, we need to use our imaginations and think of the impossible to make a well-lived life, right? So I am actually digging that inner kid inside of me by amplifying the voices that children have.
Ninit and I had some discussion on what kind of story we want to do. Both of us threw a number of ideas back and forth but finally decided that we should focus with one title to publish that year. Writing for children is quite tricky because the books, intentionally or not, become their references of the world, so I needed to be careful with what I story I was making. We spent a whole year for the idea until it became a product. We did it in the middle of our full time job so we had a lot of limitations in time and resources.
For me, a good children's book is one that comprehends the wisdom in children's words and perspective. A lot of times, I find children books are quite patronizing, they still find the need to "teach" values and be a source of what is right or wrong, which are quite understandable. But I feel in doing so, we have often stolen the children's own voice and limited their imagination, so I feel that there is a lot of rooms to improve our ways in telling stories for the kids.
What kind of books are you planning to publish more in the near future?
Rassi: Both Ninit and I are currently working on some stories for children and later on, toward the end of the year, we want to start working with works from other writers, illustrators and story-makers.
It has often been said that Indonesians don't read that much. What is your take on this, especially based on your observation during the various events Seumpama Books has participated in? What do you think could make more people — especially the younger ones — interested in books?
Ninit: We got really good vibes from the people we interacted with. There are a lot of people who really appreciate well-written books and articulate authors. But we have incorporated less books with the digitalization of media, so arguably, the society in general might have forgotten how to interact with book and the activity of reading.
On top of that, reading and books resonate with [image that is] exclusive, studious, intellectual and not practical — which of course we argue otherwise. Even with fictions. There's an article in The Guardian in which Neil Gaiman mentioned that to read fiction helps you to have "the drive and to keep on going" and "to have empathy," which creates a healthy society. So we need to have books around and to create better books for people to read and open minds.
Rassi: I think it's not that Indonesians don't read that much, but our culture of literacy is only as old as the nation itself. The society had only been fully literate after the independence, so perhaps my generation is the first generation that can really claim reading not as a luxury but something that we do, that we need to do. What we need to do now is to make sure we pass the habits of reading, to promote the necessities of reading and writing and pass it on to the next generation. We need to make books relevant and enlightening again, and don't give up in doing it.
Moving forward, what is your plan to expand Seumpama Books?
Ninit: We'll be launching an online store by the second quarter of the year so we can distribute our books to a larger audience. We're also looking into production of new books, collaborating with writers and illustrators and translating our works into English and other languages.
—
For more information on Seumpama Books, visit @seumpamabooks on Instagram.