WAKTU HUJAN TURUN ENGLISH EDITION IS COMING NEXT YEAR!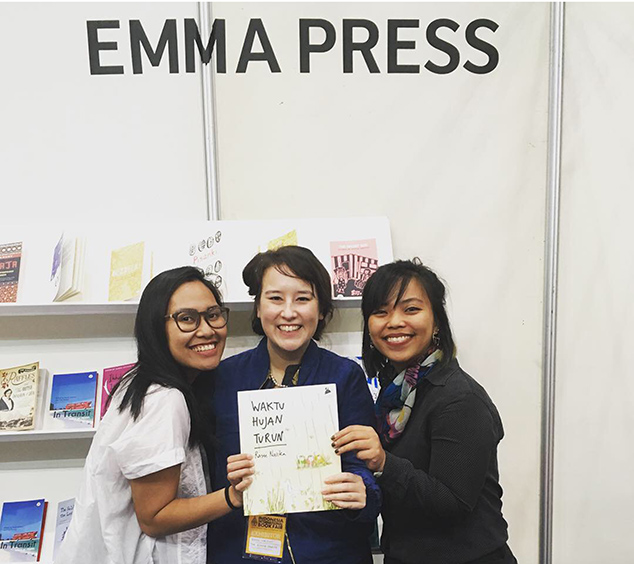 The Emma Press, a UK independent publisher, is bringing Waktu Hujan Turun to its English edition next year. They have been awarded with the LitRi Translation Grant this year. Along with Waktu Hujan Turun, The Emma Press would also publish Reda Gaudiamo's Tentang Kita and Na Willa next year.
"The Emma Press have acquired world English rights for the three titles as well as two other titles by Reda Gaudiamo: Na Willa and the House in the Alley and Aku, Meps and Beps, which will be published in 2020. Na Willa and When It Rains will be published in March 2019 and will be presented at London Book Fair as Indonesia will be the market focus for 2019," as stated in their website.
(Can we stop a moment to embrace that it will be presented at the London Book Fair?)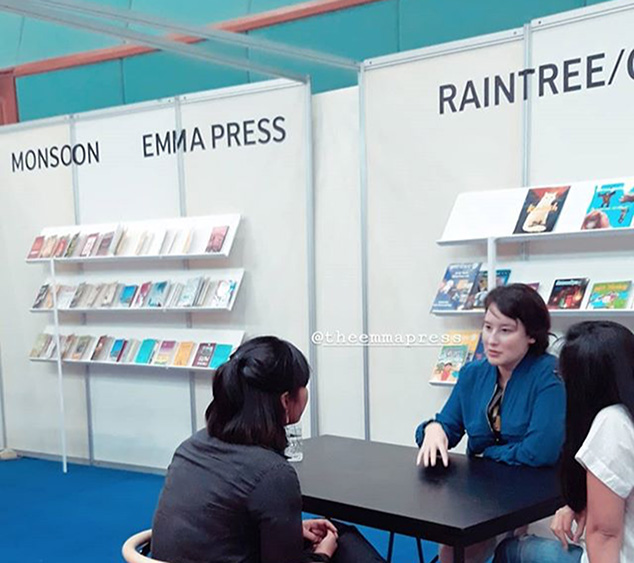 Their website also quoted Anton Kurnia of the LitRi program coordinator who says: "Na Willa and Tentang Kita by Reda Gaudiamo are masterpieces. So is Waktu Hujan Turun by Rassi Narika. The books deserve good translations to other languages, including English, and should be published abroad so more people in the world can read these beautiful works by two of the best Indonesian writers."
Nung Atasana, director of Borobudur Agency (a literary agency established by the Indonesian Publishers Association to manage international publications of Indonesian titles) – who also introduces and represents our books, states that: "Reda is a talented writer and singer. She portrays everyday lives to be so vibrant and melodious in her stories in a masterful way. And being an author who illustrates her own children's books, Rassi gives real joys to young kids with amusing imaginations."
The LitRi translation program is led by the National Book Committee of Indonesia's Ministry of Education and Culture to promote the translation of Indonesian literature and works about Indonesian culture into other languages as well as increasing the visibility of books by Indonesian authors worldwide. They award grants to publishers who own translation rights for works of Indonesian literature and other titles of literary quality (including fiction, non-fiction, children's books, and comic books).
The Emma Press and four UK publisher representatives was invited by IKAPI for a week to attend a series of programs including LitBeat, a literary festival where some of the publishers speak to share their view on international opportunities for Indonesian authors and work, as well the annual Indonesian International Book Fair. Their trip was sponsored and hosted by the British Council who also helped them to set meetings with some local publisher and bookstores, including two of our favourites: Post and Aksara.
Emma Wright, founded The Emma Press back in 2012, and had consistently offered a line of beautiful works in poetry and children books from emerging artists and authors within and outside of UK. They were shortlisted in the Publishers' category of the Michael Marks Awards in 2014 and 2015, and won it in 2016.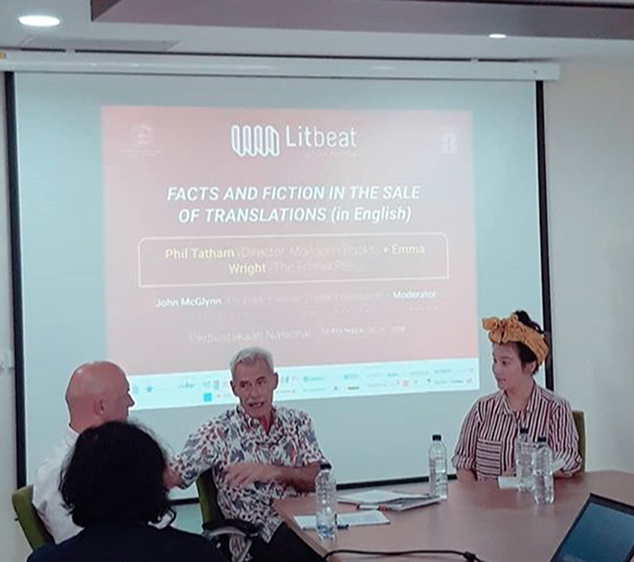 We are so honoured to be able to share Waktu Hujan Turun with Emma. Our conversation was one which felt like meeting an old college friend who had lived far but still shares a similar dream to "edit, design, illustrate, publicise, produce, sell and occasionally write books that excite me and that I want to share with everyone else. I want to publish the kind of writing that makes people laugh and cry and text extracts to their friends because it inspires such a strong response in them." Her presence speaks of this notion, and we can't help but being excited that we will be sharing this journey with them.